This page is really the special province of Michael Kappeler and Eric Behrens of Swarthmore College, though the errors are mine.  Unfortunately, given the speed with which apps are developed, this page is likely to be obsolete quite quickly.  Bear in mind that our choices were constrained by what was available in the summer of 2013.
Main criteria: Simplicity and Power
We wanted to keep things simple: to choose apps that would enable participants to create powerful stories without being distracted by too many choices and options.  We knew these workshops would have to happen quickly.
Primary Needs:
When working with iPods, participants need to be able to
1) record their voice-over
2) import photographs and possibly edit those photographs to improve or alter the effect they create
3) combine images with words to create a digital story–a video in which imagery underscores and enhances the meaning of the spoken word.
Chosen apps (working backwards from end result):
3) iMovie: this remains (2013-4) the app which allows the user the most control over the finished product.  The most recent versions (10.2) are optimized for iPhone5; we are using an older version.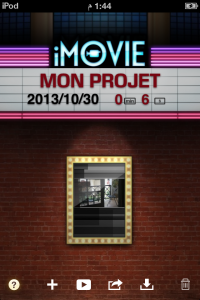 There are a variety of video editing apps available now, but most of these assume the user wants to "beautify" a video with trimming, transitions, and a soundtrack.  Voiceovers are only occasionally possible.  For digital storytelling that emphasizes reflexive prose, the best alternatives to iMovie may be AndroVid (android), VidTrim (android), and Splice (free; iPhone).
2) Photos and Afterlight:



The Photo/Film Roll app or utility that comes with the iPod allows us to import photographs from my laptop onto the iPod.  (Participants take photos, transfer those photos to my laptop, I transfer the photos from the laptop to the individual participant's iPod.  Note: this is a bottleneck in the workshop!)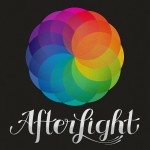 When participants have enough time to edit their photos, Afterlight offers a wide range of options for adjusting, filtering, cropping, and so on.
1) Garage Band:



Since the voice-over is at the heart of our storytelling, we wanted to have good quality recording of the voice-over.  GarageBand integrates well with iMovie: you can export the sound file directly into an iMovie project.
Layout
Our goal here was to streamline the iPods into devices specifically designed to facilitate digital storytelling.  The first step of the process was to remove or hide away everything that was not essential to the storytelling process; then we downloaded our chosen apps and arranged them as simply as possible.  (The only essential item on the top line is the "Photos" icon; I left the pre-loaded "Camera" just in case and added two additional apps for younger audiences, since some of my participants were teachers interested in using this process or something similar with their students.)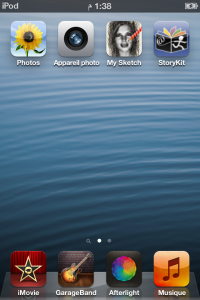 Configuration:
We tried to use the Apple app Configurator, but this was a disaster.  In the end, I configured each iPod individually, which means that I also have to wipe each iPod individually at the end of each workshop.  This takes time, but Configurator was a black hole.  (See page on problems and troubleshooting.)
Thanks, MK and Eric, for helping me through the mine field!