"What is this plant?" James asks.  It's everywhere we look, growing right up to the door of the gite—a small rural guesthouse—or up to the fence-line a few feet from the door of the gite.  We brush against it on our way to the road; we look out over a sea of greenery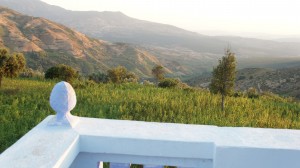 "Oh, do you really not know it?" Hayat asks (I've changed our host's name, out of mild paranoia on her behalf).  The words are neutral, but her tone says it all.  Cannabis.  James is embarrassed not to have known, but the problem is less one of recognition than of incredulity.  Surely, this expanse of bio-matter could not possibly be marijuana.  Surely, an illegal drug would be at least somewhat hidden, tucked away behind other crops, shielded by houses.  The ubiquity of this plant beggars belief.
"When I was little," Hayat tells us, "this whole area was orchard: fruit trees of all kinds, along with olives, and vegetables growing underneath. The trees have all been rooted out: nothing is allowed to compete with the cannabis."


Of course, everyone knows that the Rif is full of cannabis. The guidebooks tell you explicitly, naming certain cities as places to avoid unless you're there for the obvious reason.  They suggest avoiding certain treks because the police or the military might think you were a dealer or an aspiring dealer.  They warn that inhabitants of the Rif are unfriendly to outsiders because of the cannabis trade: some visitors have even been pelted with rocks to drive them away.
But I had worked hard to avoid the cannabis regions of the Rif: who wants to bring their children into an area associated with illegal drugs?  I thought I had found a Riffian cannabis-free zone.
Time to think again.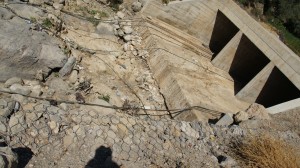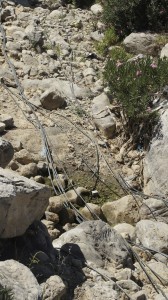 In the morning, we take a short hike.  As we follow the piste—the dirt road—up the hillside, we walk alongside a dry riverbed.  Snaking along the bottom of the gully are a series of hoses.  "Are people taking water from further upstream?" I ask.
"For their precious cannabis," Hayat confirms.  "They treat it like a baby.  Better.  No one take water this way for their family: only for the cannabis."
"Does that create conflict? Battles over water?"
Hayat tips her head sideways in partial acknowledgment.  "The big growers take their water where they like.  No one really argues with them."
But the wells here seem to be running dry:
In the field southwest of the piste, people are bringing in the harvest.  This stage of farming is labor-intensive and precise: only the plants with slightly yellowing leaves are taken. Walking toward us down the road from a farther field, an old woman is bent double by the load of cannabis she carries.
"That is the old life," says Hayat, referring to the weight of the woman's load.  "Now women tell their men, 'I won't be your mule.  I won't marry you if you expect me to work like that.'"
I feel I should be focused on gender politics, but I can't get over the fact that the old woman is bent double under a weight of cannabis, specifically.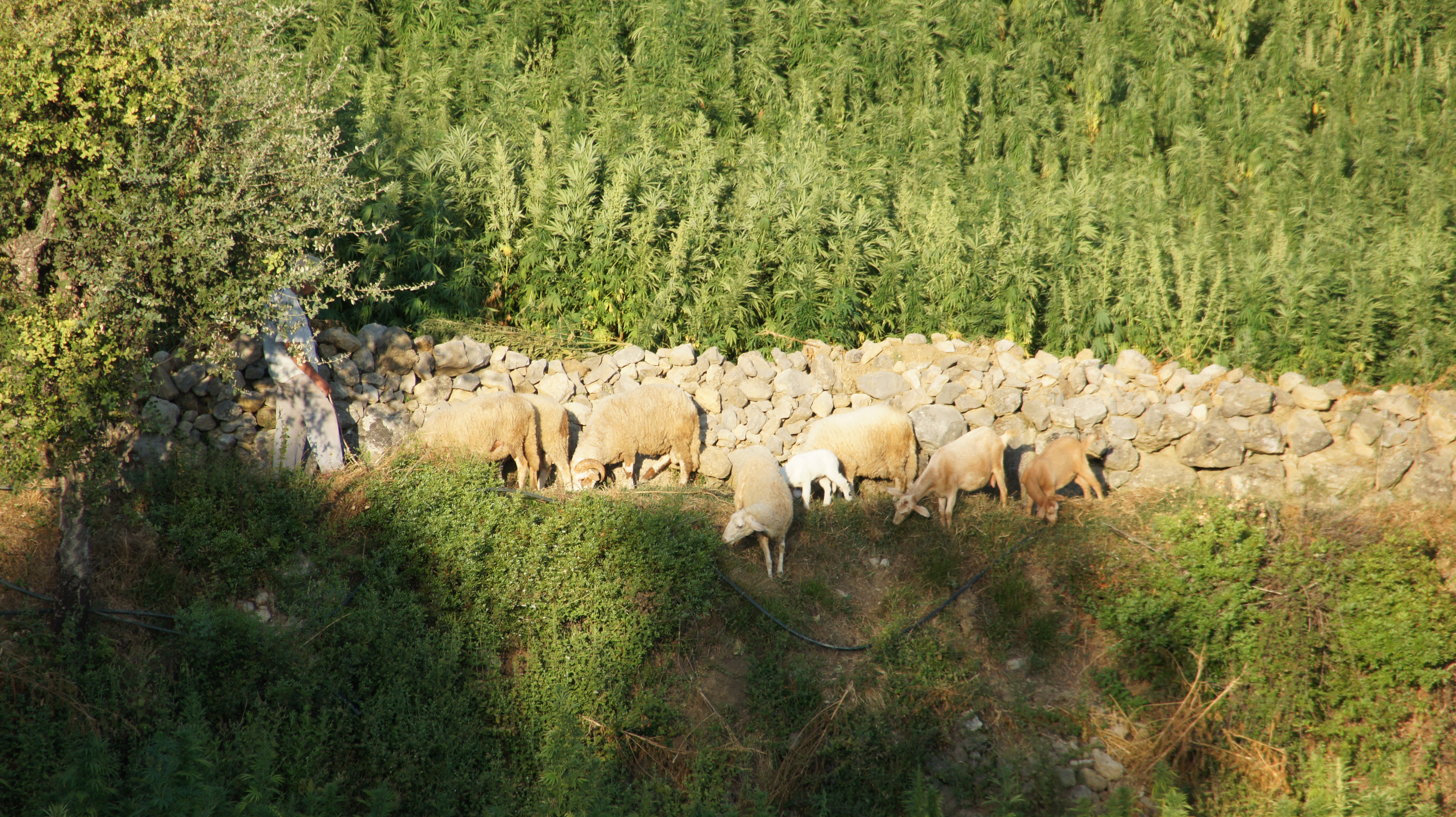 There's a chapter in Michael Pollan's Botany of Desire that has influenced my views on cannabis.  Pollan focuses on the transformation of the cannabis plant in the United States, with the war on drugs and the subsequent move indoors, to light- and water-intensive growing systems.  Pollan also includes a description of a marijuana café in Amsterdam, but somehow I feel certain he has never seen a seventy-year-old Moroccan woman bent double under a load of cannabis.  Pollan's meditation on pleasure and desire and socio-political efforts to control the pleasure and wildness associated with cannabis seems very distant from this purely economic calculus of backbreaking labor in exchange for cash.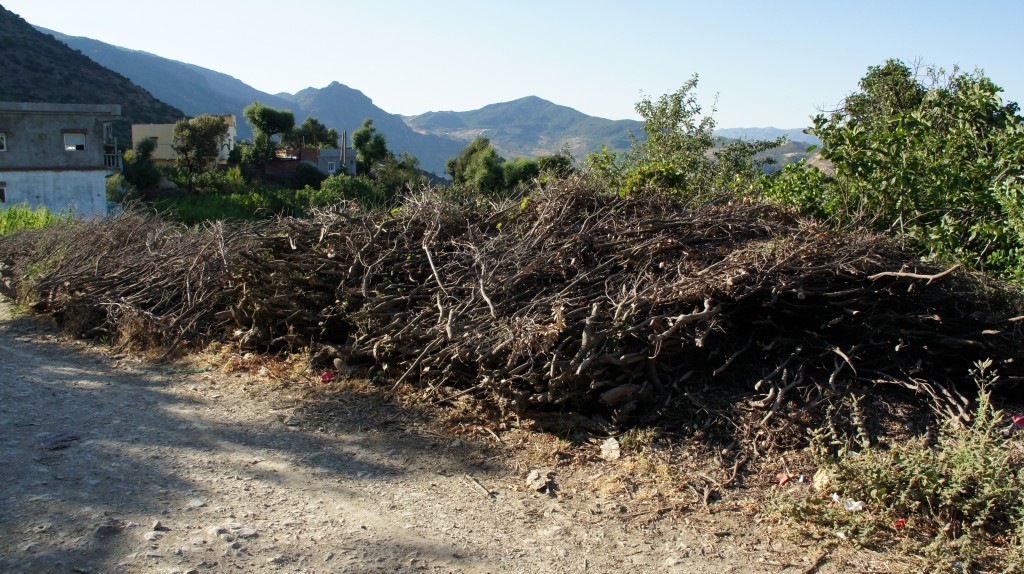 We pass a large pile of gathered firewood by the side of the road.  "In the old days," says Hayat, "you could tell a lot about a woman and her family by the pile of wood she would build. Everyone would see and would judge you by the size of the pile, the tidiness, the structure of the pile.  It's the women who go up onto the mountain and cut the wood and carry it down.  Sometimes a man, but mostly the women."
"Doesn't that cause trouble on the mountain, with deforestation and erosion?"
"There's a ban on cutting wood now, but people do it anyway.  It's custom.  In the old days, there were not so many people living here, so the wood harvesting made little difference to the mountain.  Now there are too many people, and how will they all live?"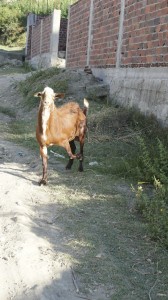 We pass a tethered goat.  "Women would have to go and gather forage for the animals, too.  Life is easier now than it was then.  Many people have no animals, so there's no need to gather forage.  Some people heat their homes with gas.  People can buy what they need with the money from the cannabis.  These days, a mother will say to her son, 'Let us find you a strong woman to help you,' and the son will say, 'My wife doesn't have to help me, she can sit at the mirror all day and make herself beautiful.'" (!)
"Is the cannabis so bad, then?" I ask.  "If it makes people's lives easier?"
"Some people have done well out of cannabis," Hayat acknowledges. "They have been able to build houses, buy cars.  Others have not done so well.  My brothers—" (Hayat's brothers grow cannabis, a fact she was reluctant to own straight out: "My brothers do what everyone else does," she finally conceded, "though I am ashamed of this.") "Once we were examining family finances, to pool our resources to care for my mother in her illness, so I know how much my brothers make, and it comes out to about 100 dirhams a day, which is not that much money when you think about it."  Roughly $12 per day, $84 per week (assuming a seven day work week), not quite $4,500 per year.  Not that much indeed.  "My brothers still can't afford to build themselves a house, though they've been trying for three years."
Cannabis drying on rooftops: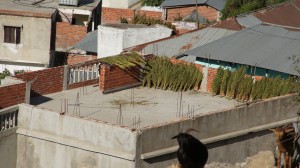 A recent UN report on drugs and crime lists Morocco and Afghanistan as "the foremost source countries for cannabis resin" in the world.  Morocco has 47,000 hectares devoted to cannabis cultivation; Afghanistan has only 12,000 hectares.  Moroccan cannabis goes to Europe through Spain—so my old woman loaded with cannabis might well be supplying Michael Pollan's marijuana café in Amsterdam.  Spain evidently manages to confiscate 34% of the hashish smuggled through its borders while Morocco stops only 12% of the cannabis moving across its territories.  (How exactly do they come up with these percentages, I wonder.  Is someone counting total quantity somewhere?  Is there a gentleman's agreement about how much cannabis will be confiscated? "OK, give me 12% of that and then move on.")
The government used to carpet bomb the Rif in an attempt to limit the cannabis crop.  What Hayat describes sounds alarmingly similar to napalm or agent orange: every plant touched by the spray dies; people are left coughing and ill.
But since the February 20th movement—the "Arab spring," Moroccan style—the carpet bombing has ceased.  The sense I get from conversations with a number of people is that the government, alarmed by the protests, pulled back from active conflict in the Rif.  Now, the government lets the cannabis provide the social support it cannot afford to offer.  Cannabis provides jobs and brings cash to the region.  There are no other crops that Europe is so happy to purchase.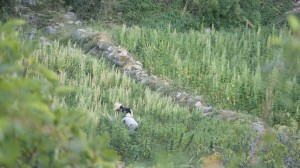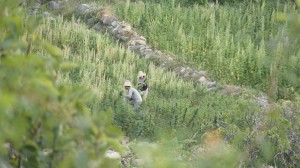 "The government did try a pilot program growing saffron here, and it was successful, but it was not well publicized," says Hayat.  "I told my father and brothers that we should try growing saffron, but they laughed at me.  My father said we would need hectares of land to grow that crop successfully, but we only have tiny plots.  It would never work."
Micro-cropping: cork tree with cannabis (the bark is stripped from the bottom of the tree and used to make stools and other useful things).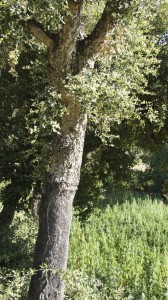 Still, others complain that teenagers go to work for these big growers, for the dealers, and they don't finish school.  "Maybe they start smoking themselves, and then they're trapped in a world where they will never really matter.  Their lives are wasted.  This is not support; this is abandonment."
But no one says this very loudly.