A borrowed/rented truck is loaded with blankets, as is Karen and Kevin's car, almost past capacity.


Héry and Ruben, two student leaders of Comité d'Entre-aide International (CEI) climb into the truck with the driver and lead us on a meandering path through the city before turning onto a trail leading into the "forest"—a mass planting of small trees.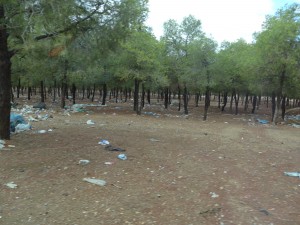 This seems like a forest in the optative case, a space hoping to become a forest.  "Funny place to hide," says Zoe.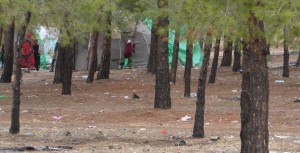 "Maybe not so much hiding as finding a place to stay away from other people," James replies.
We drive right up to the edge of the encampment, and as we get out the blankets, people gather.  Karen has told us that the migrant community is 80% male overall, but there are lots of women here, and lots of children.  Karen asks to be introduced to the babies, most of whom seem to be named something like God's Time or God's Power.  What do you name a baby that comes to you through rape or forced prostitution?  But these babies also seem well-loved.  Their mothers hold them in their arms or tie them on their backs; one father holds his baby in a warm and soft blanket.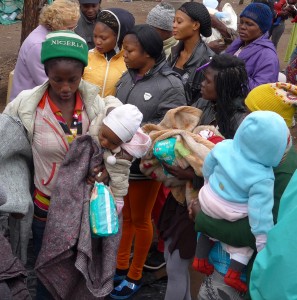 Baby David smiles for the camera: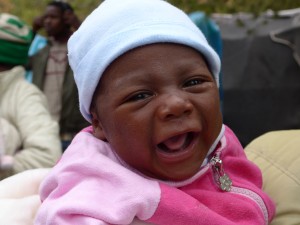 One man comes up on crutches with a broken leg.  I ask if I can take a picture of the leg, not his face and he replies, or echoes, "Not the face."  I hear that as permission, but when I take out a camera, he says, "Not so fast."  He needs medicine for the leg: can we give him money for the medicine?  There's an implied quid pro quo: picture for money.  "You will have to ask CEI about the medicine," James replies, and motions to Héry, as Jeremy drags me off to show me a small child tugging at a blanket.
The CEI team announces that we will give one blanket per person; children who are walking get their own blanket, babes in arms share with their mothers.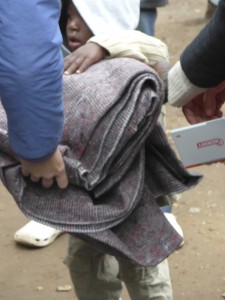 Ink will be stamped on each person's right thumb to prevent multiple blankets going to a single person.  James and Jeremy are in charge of the ink pad, which is more complicated than expected: people come up with their thumbs down and press, making it hard or impossible to see whether or not that thumb had already been stamped.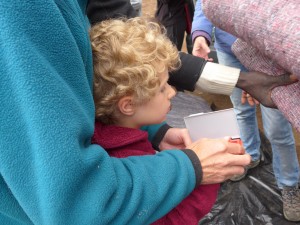 We hand out blankets until everyone has one (or perhaps two), then Héry and Ruben look at the pile and decide that each woman can have another blanket.  This time, their 3rd finger is to be stamped.
Then the clothes are to be distributed, and the chaos begins.  James and Karen hold up the articles of clothing one at a time, and people crowd in to grab whatever they can.  It's a little overwhelming, trying to keep things reasonably fair.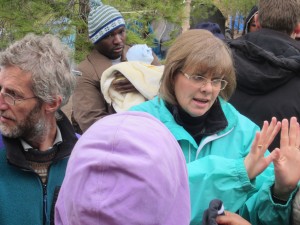 The West Point boys, James and Brian, try to hold back the tide.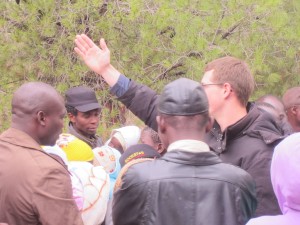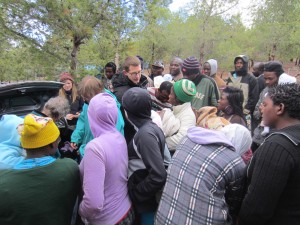 "You have to give them room.  They can't work without more space.  Please form a line.  They can't get the clothes out if you don't give them space."  Jackets seem especially prized: one larger woman gets a small woolen jacket which barely covers her, but she puts in on and pulls it closed and strokes it with pleasure.
Brian, accompanied by our teenage girls Zoe and Claire, is sent off with a bag of shoes to distribute, but as soon as the bag touches the ground, migrants are ripping it apart and pulling out the shoes that appeal to them.  Some of the most prized seem totally inappropriate to me: silver strappy sandals are grabbed up, but wool lined boots are left to the side of the distribution area.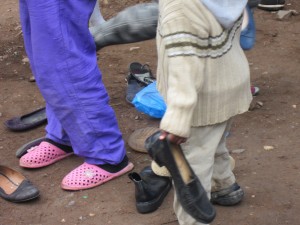 After the distribution, everyone separates, heading off to their individual homes/tents.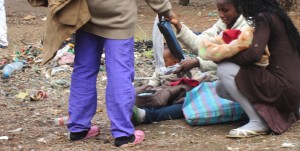 Around the outskirts of the camp, there's a burnt-out tent, residue of an accident with a fire.  The fire is recent.  "We have to be more careful," one man remarks to James.
Karen looks around a little wistfully, hoping for a group prayer but unwilling to push the issue.  "Shall we pray for the mommas?" she asks, and puts her arms around Joy, with her new baby God's Time, and around another young woman who must be seven or eight months pregnant.  "We gonna pray for me!" says this young woman, looking both embarrassed and thrilled.  By the time Karen is done, some of the people who had taken their blankets and clothing home have drifted back.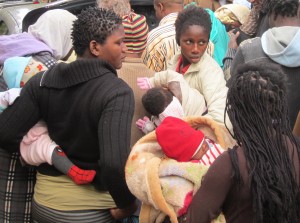 One man with a bandaged leg and crutches says gruffly, "We need to pray?"
"Pastor Success!" Karen greets him with a big smile.  "Yes, please, let us pray."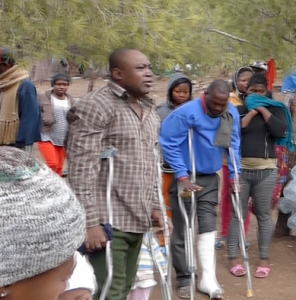 Success leads our little straggly circle in a few praise songs—"Receive your glory, Lord, Alleluia"—and then leads the group in prayer.  The prayer is composed of brief general instructions ("Let us pray for these people so that when they return, they will bring abundant gifts also"), followed by a brief period in which the migrants quietly but audibly produce those prayers, followed by another general directive, and more prayers.  I am impressed by the energy these people bring to these prayers, by the faith they maintain in such difficult circumstances.
God's Time must weigh heavily in the arms of Joy, at least some of the time.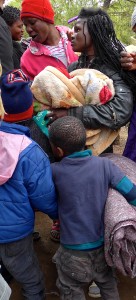 And for many of the children, this life in the forest is all they have ever known.