We knew it was going to be hard to tear ourselves away from moving house and recovering from our longer travels, but we wanted to get north to see Tangier for a couple of days.  Driving north through the rain underscored the extent of our fatigue: arriving around 5 p.m. in rush-hour traffic in the chaos of Tangier was still more difficult: some of the roads we had thought were drivable (and were, in the end) look a lot like pedestrian-only walk-ways.  We had rented a little house in the old medina; finally, we called our contact person, and handed the phone to the Moroccan we had stopped to ask for directions.  He then ran ahead of us through the narrow streets and gates of the old Kasbah, where we would never have had the courage to drive on our own.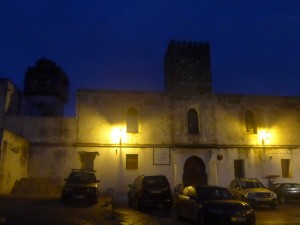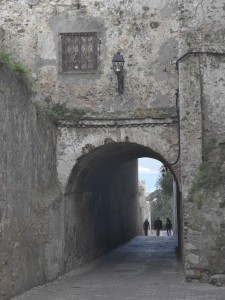 The house was sweet, with no rooms on the ground floor, and two rooms on every floor above (2, 3, 4) and a rooftop terrace at the top.  Lots of stairs!  And a nice view of the sunrise and sunset.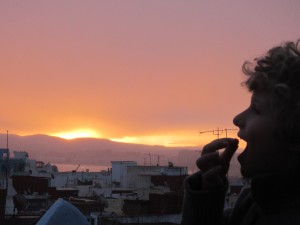 Who would have thought early January would be raspberry season?
We went out for breakfast the first day, with hot chocolate that was really melted chocolate.  We were all excited by the thought of this drink, but it ended up  being too rich to enjoy fully.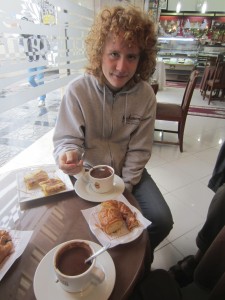 Then we went wandering, past classic Beat haunts, like the Café de Paris and the Librairie des Colonnes.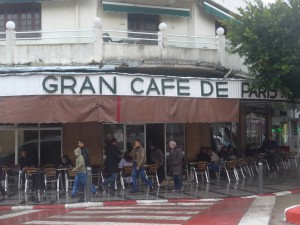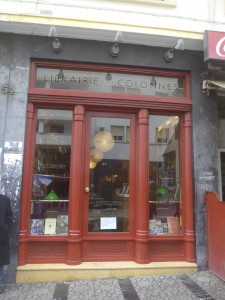 We loved that bookstore!  Then we visited the American Legation building together, checking out James Bey's famous "Moroccan Mona Lisa" painting of his servant Zahra, and some of the many photos of Paul Bowles and the Beats (first, a young Bowles, left, with his wife Jane and Truman Capote, then the older Bowles below).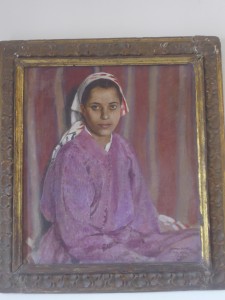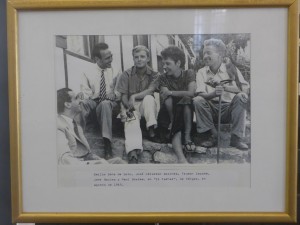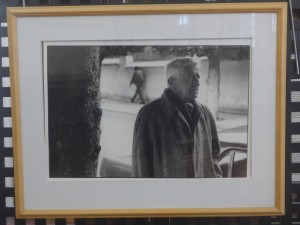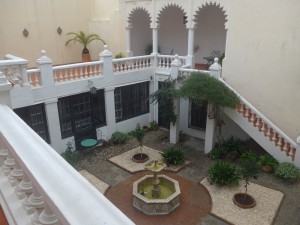 I returned to look at the library collection while the rest of the family went to the Kasbah museum.
Sun shone on us briefly, passing the Continental, where scenes from Sheltering Sky were filmed,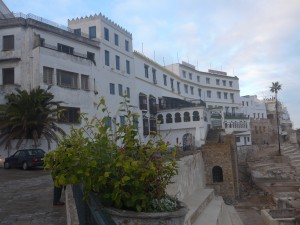 but in general, the day was a bit drizzly and grizzly,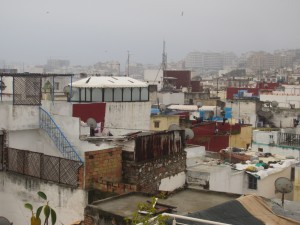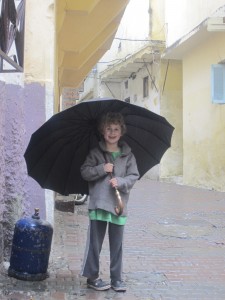 even if we were wandering from the Gran Socco to the Petit Socco and back again.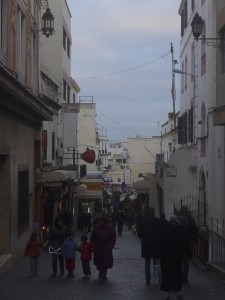 Our spirits were low.  We needed a change.