Al jar, thumma ddar.  When house-hunting, the Moroccan proverb says, choose your neighbor first, then choose your house.  Somewhere I read about an Islamic teaching that insists on the importance of looking after one's neighbors, up to 40 houses in all directions.  That's a sizeable neighborhood!
Said adapted this for us: choose your landlord first, then your house.  It's more important to have a good landlord, one who will work with you, than to have the perfect house.  But we really like both our landlord and our new home.  Omar (that first letter is actually more guttural than it looks) is terrifically warm and welcoming; he also speaks fluent English, which makes it easier to appreciate how thoughtful and articulate he is.  Omar's son actually lives in Philadelphia and did a master's degree at Villanova, so we're also all struck by the bizarrely small world we inhabit.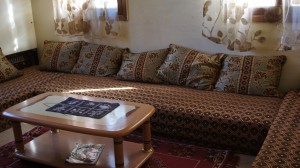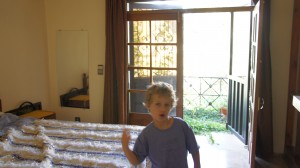 Omar's house is unusual in several respects: it separates public areas (ground floor) and private sleeping areas (upper floor) instead of mixing them together; it has a well-equipped kitchen, including an oven (!) and a microwave;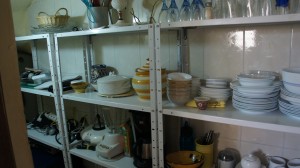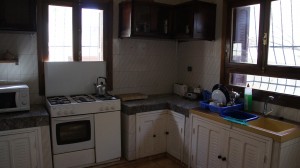 and it's nicely furnished in a mixture of Moroccan and French styles.
And the alternatives–kitchens without ovens, with only two encrusted electric burners–or dark, squalid, small apartments–make us all the more grateful to have found this!
Our one worry is the winter cold: Omar is replacing the hot water heater and refurbishing the coal-fired furnace, so we hope that all will be well.  Ifrani houses are not built for the cold, despite the reliably cold winters.  Puzzle that one out: my guess is that the cost of construction pushes builders into using the cheapest materials–cement bricks.  But more on building materials later….