We had originally decided not to visit Lalla Aisha to see her ceramics because the village where she lives was over an hour away from the village where we were staying.  ("Lalla" is an honorific, something between "Ma'am" and "Lady.")  We didn't want to spend 2-3 hours driving on rough roads.  But James was recuperating slowly, so  we decided to stay an extra day and make the trip.  The drive was rough in places, but also breathtaking, weaving up the side of mountain, running along a mountain ridge, with the sun gleaming beside us.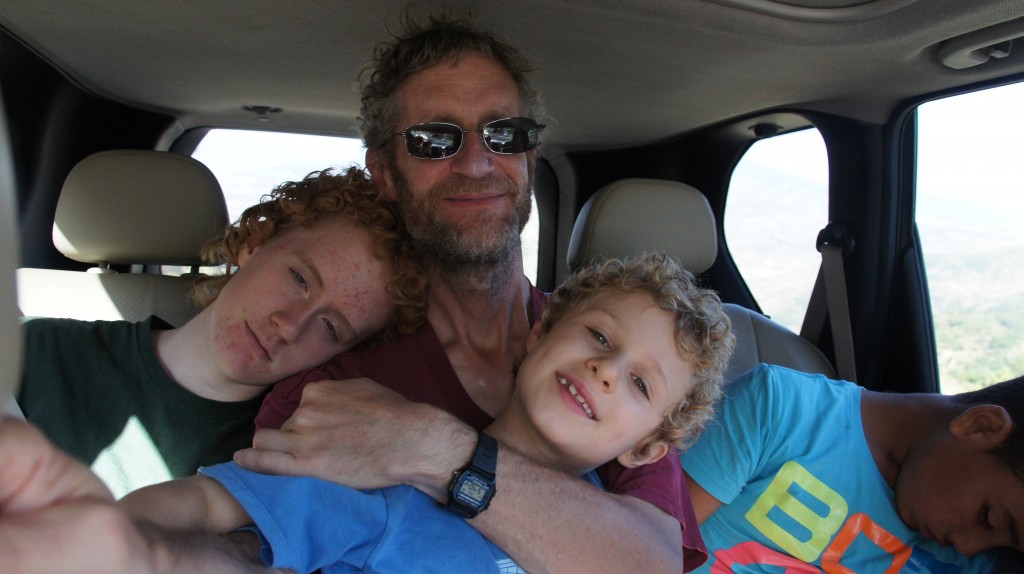 We arrived and were offered Moroccan tea with cookies, then proceeded to converse in a hodge-podge of languages.  James was a big hit, throwing out his scarecrow arms and legs, mugging for his new friends.  They tried to teach him how to ask for manly tea in a café, and when James entered into the spirit of the joke, trying to pronounce the words with macho enthusiasm, they laughed till they cried.  The children looked on, baffled at their father and our hosts alike.  Lalla Aisha's grown son told us how relieved he was that we could stand a joke.  "Some visitors, they come and sit here with their long faces.  We're not always sure they're human."
The lesson started with a trench in the field behind the house and workshop.  Grab some clumps of dirt (also known as raw clay).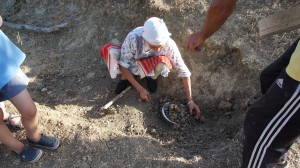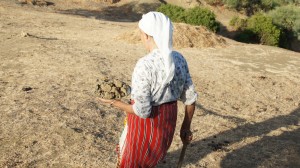 Break up the clumps into fine clay dust.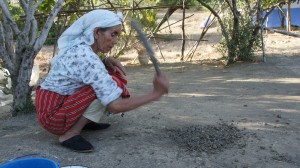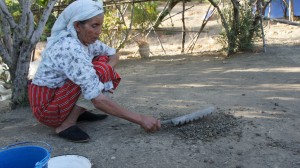 Sift out any remaing lumps.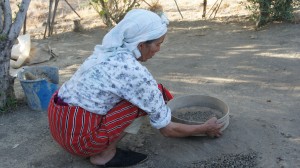 Add water to make… clay.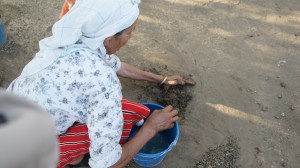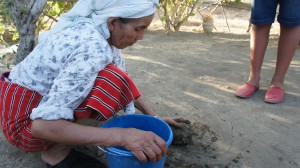 Knead the clay to make it smooth and consistent.  Think about what shape you'd like to make.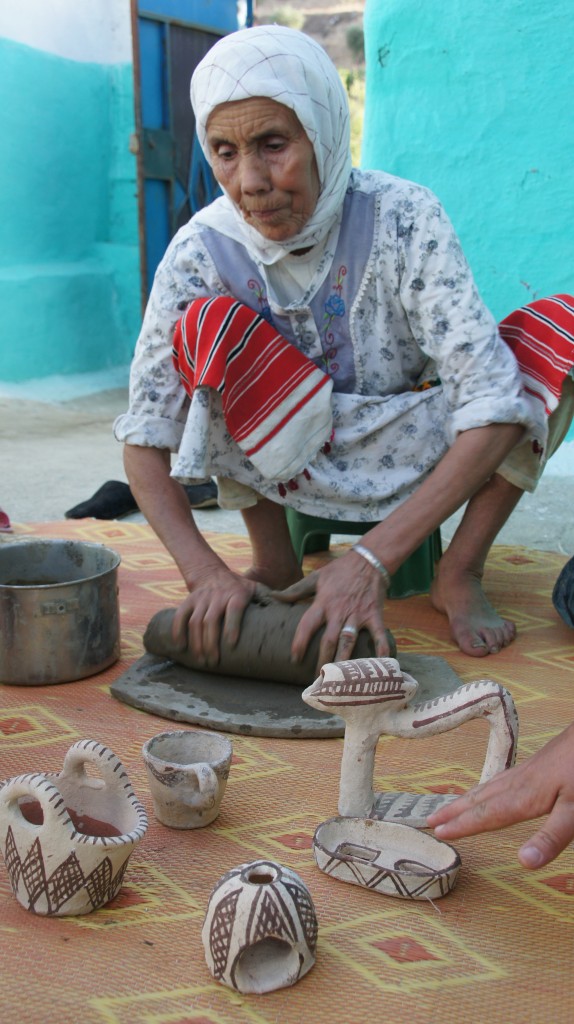 Our whole family wants to make mugs.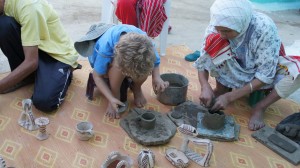 Jeremy gets a little extra help from Lalla Aisha, which means he has time to make a candlestick as well.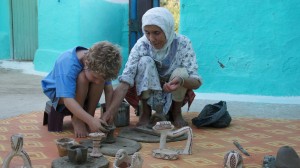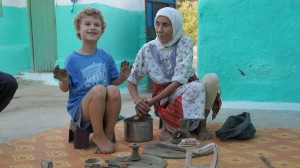 After the pieces are made, and as they begin to dry a little, Lalla Aisha explains how to decorate them with slip and pigments: both of these made from dirt or stone she has dug up a little farther from the house.
These stones produce the slip and pigment.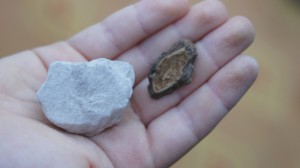 The mug is covered with slip before being painted with a darker pigment.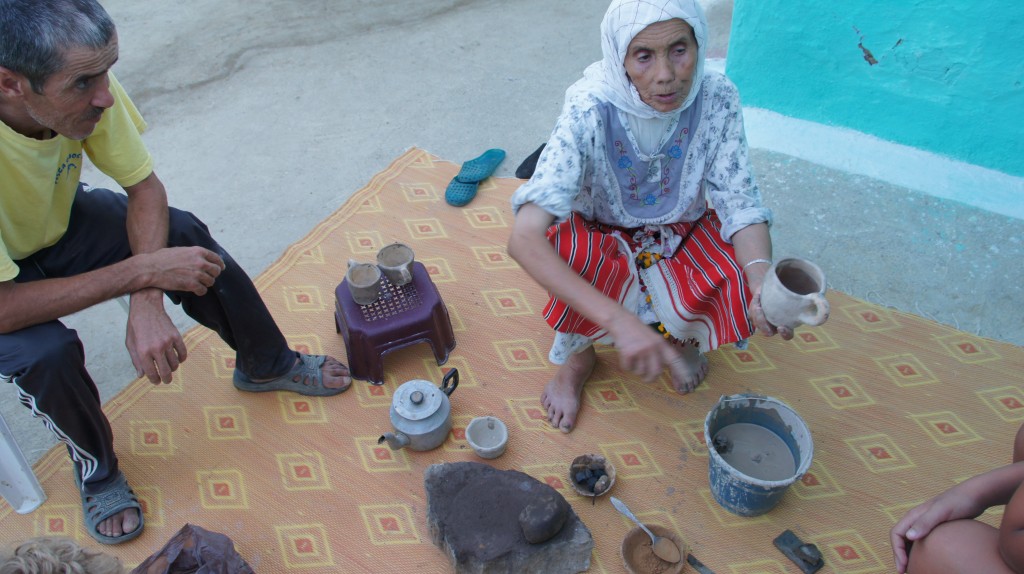 Dark stone is crushed, then water is added to make a pasty paint.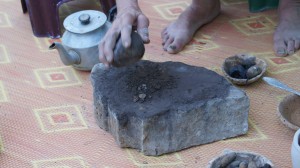 Paintbrushes are made from animal hair with clay handles.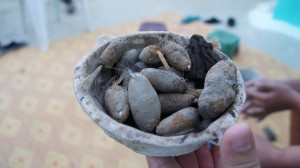 The work is absorbing and lots of fun, even if James's mug is the only one to pass inspection.  ("We might actually fire and sell this one!")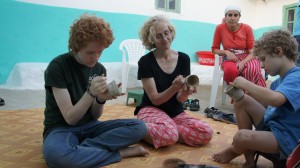 We won't be taking our less polished work with us: there's no time to fire and finish the pieces.  Instead, we have the simple pleasure of the process.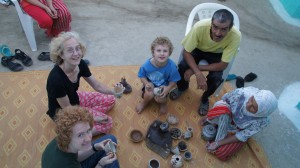 It's dark by the time we're done, and we drive slowly over the rutted path.  Hayat has driven us here in her 4×4, since our car would not be able to manage the road.  There's some conflict about the piste: Lalla Aisha wants her neighbors to contribute to repairing the road but they say she should bear all the cost, since she's the one who has foreigners coming to visit.  In the dusk, some boys on a nearby hill throw a rock at the car.  Hayat's son shouts at them, and Hayat tells him sharply to be still and quiet.  "Just stupid boys," she says.  But there's a bit of tension  in the car, and as we take the road home, through the dark now, Hayat is concentrating hard on the road.  I think about how much courage and agility it must take for her to do the work she does, translating between cultures, living on the cusp between comparatively wealthy visitors and impoverished neighbors, and I'm grateful for the charm and graciousness with which she has welcomed and cared for us.