Once we finished our big travels over the winter break–and in the middle of those travels, truth be told–we had many things to do: move from Omar's house to housesitting for Karen and Kevin and Claire Smith during their five months in the United States was first on the agenda.

We left behind some of our favorite "rose pinecones" (super soft with a layer of velvet on the top of each petal) and the wedding cape that covered the bed.  Imazigh women weave this kind of a cape in anticipation of their wedding, and the details of the weave, the thread, the beads, all tell a story about the woman who wove it.
Jeremy, sporting his Santa tie and socks that posed as high-top sneakers (a Christmas present), was happy to be back n the house.  And Nejma was happy to have company.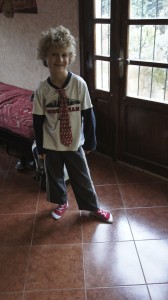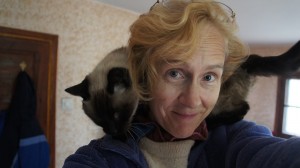 But floods seem to follow us everywhere we go:

And then came a major snowstorm that kept the children out of school (though people living in the annex went to school and built a communal igloo!):


We liked the snow better when it was dry and bright and buildable.

Aziz brought us a puppy he found by the side of the road.  He stayed for a few days and Jeremy named him Malik.  He was covered in fleas and at first we kept him outside, but when the snow came, I relented and gave him a bath and brought him into the kitchen.  Thankfully, Fatima's father eventually gave him a home on his farm.
We confirmed that the storks do indeed overwinter in Ifrane.  By February, they were clacking their beaks and thinking about spring.

Jeremy became fascinated with polar animals: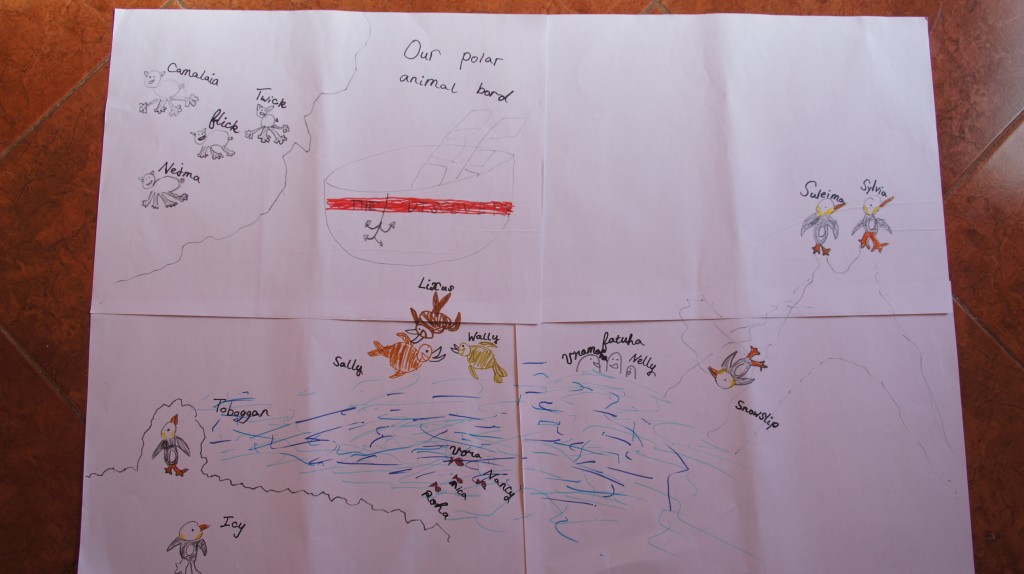 Zoe finally beat me out, height-wise:


We experimented with the shapes from my Art of Islamic Pattern course:


And Fatima fed us and tried to teach us about beldi foods (like beldi lemons, much better than the modern, foreign, romani kind).

In the meantime, I prepared and taught four digital storytelling workshops at Al Akhawayn, James started teaching his own systems design course, and the children powered on at school.