Faced with another day of rain in Tangier, we decided to head over to Tetouan.  James had been reluctant to wrestle our way through city traffic, and in fact we got lost and found ourselves accidentally driving through the high-rent neighborhoods of Tangier, which was interesting in and of itself.
But Tetouan was (relatively) sunny, despite being surrounded by dark clouds on all sides!  We were quite taken by the mingling of practical equipment and tourism, even outside of the medina.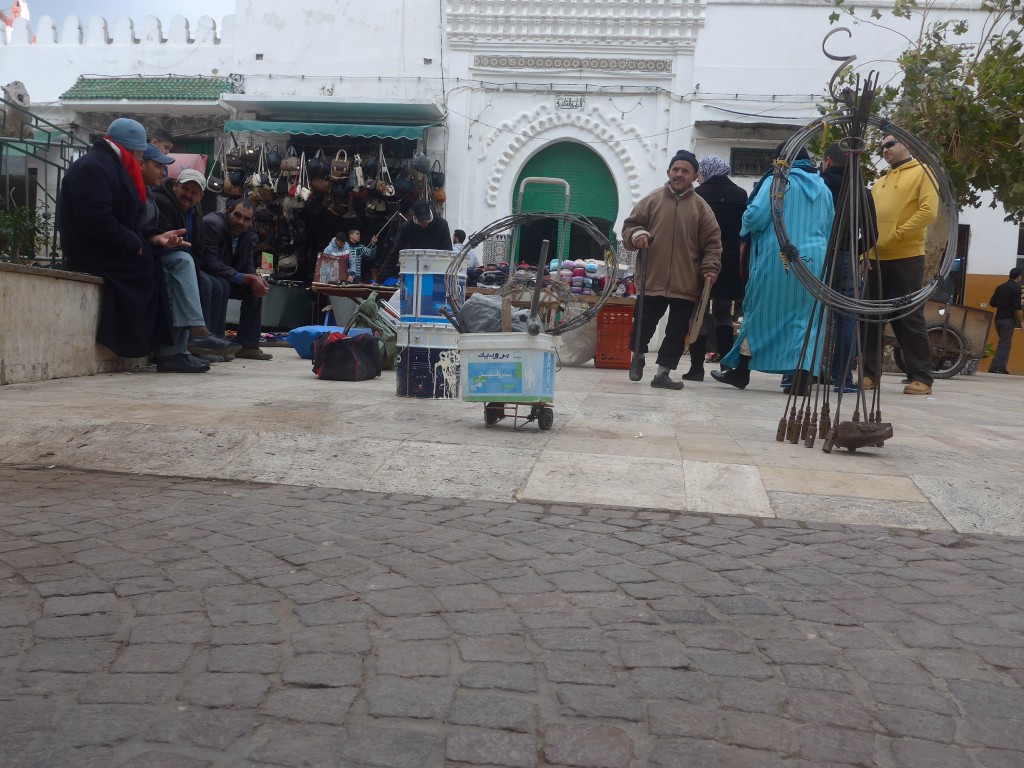 The city seemed small but purposeful, thriving in many ways.
As we entered the medina, a man named Abdelmalik struck up a conversation with James.  He was a teacher, he said, and wanted to practice his English.  In exchange for the opportunity to speak English, he'd be glad to show us around the medina.  James hesitated, then said yes, much to Zoë's dismay.  She has a much more finely tuned sense of a scam than her father does.
But Abdelmalik did indeed show us many highlights of the Tetouan medina, albeit at a faster pace than we might have set for ourselves.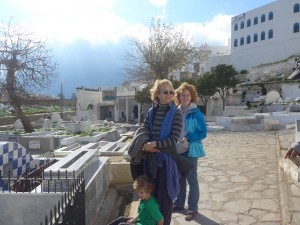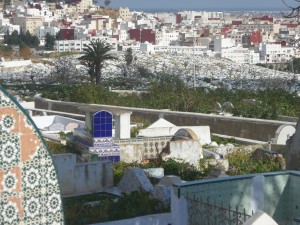 I wonder why Moroccans always assume foreigners will want to visit the Jewish cemetery?  It's picturesque, but we never know quite what to do there.
We liked the white and green of the medina: the color scheme Chefchaouen used to have before it turned blue…


And James liked watching the men paint the door to the mosque: a sign of daily life.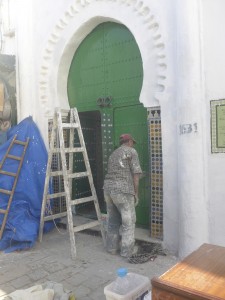 The charcoal produced by slow-burning the wood in forests outside the city was packed in bags closed up with vines.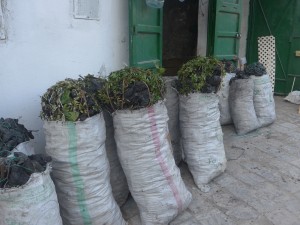 Abdelmalik led us up through a carpet shop to look at the view over the rooftop.  We only had to spend 15 minutes looking at carpets in exchange, and we warned young Youssef that we wouldn't buy anything.  He didn't seem too upset about this.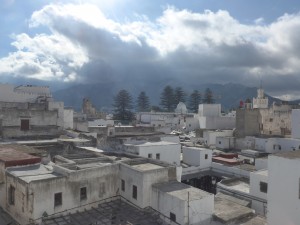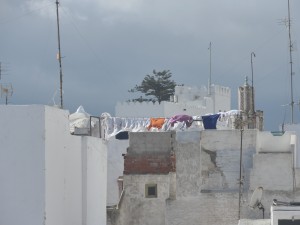 Down the stairs into the medina again, and Abdelmalik suddenly turned a corner to present us with Tetouan's small tannery.  This was James and the children's first experience of  a tannery and it seemed a smaller, gentler place than the Chouwara tannery in Fez.

In a side room, men use the half-moon knives to strip the hair from hides.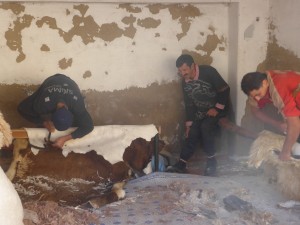 In a pool near the exit, this man did the same with a skin under water.  It's amazing to see the hair peel right off.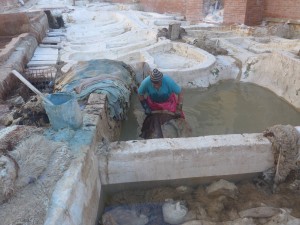 I was interested to see the sand and lime used in traditional building for sale in the medina, just past the carpenter's souq.  The white stones inside the doorway are blocks of lime.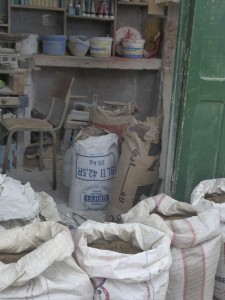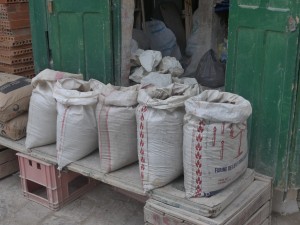 As we wandered through the medina, Abdelmalik had begun saying things like, "Allah will repay me for my time," and mentioning the desirability of a glass of tea.  We decided we needed to feed the children, so we left the medina, leaving Abdelmalik with a little money for tea.  Finding a place with vegetarian food to eat was a bit of a challenge: Zoë was tired and nauseous.  We ended up walking quite a distance and then eating bad pizza, much to Jeremy's delight.  He spent half the lunch time wandering down to the kitchen area and chatting and smiling at people.  Some Brits sat at the table behind us: they had retired to the shore near Tetouan some six years ago, and were very happy living in Morocco, despite the fact that they had little language for navigating the country.  I find this baffling.
After lunch, we took a brief look at the weekly souq, but we were put off by another, more insistent "teacher wanting to practice his English" who wouldn't leave us alone, so we…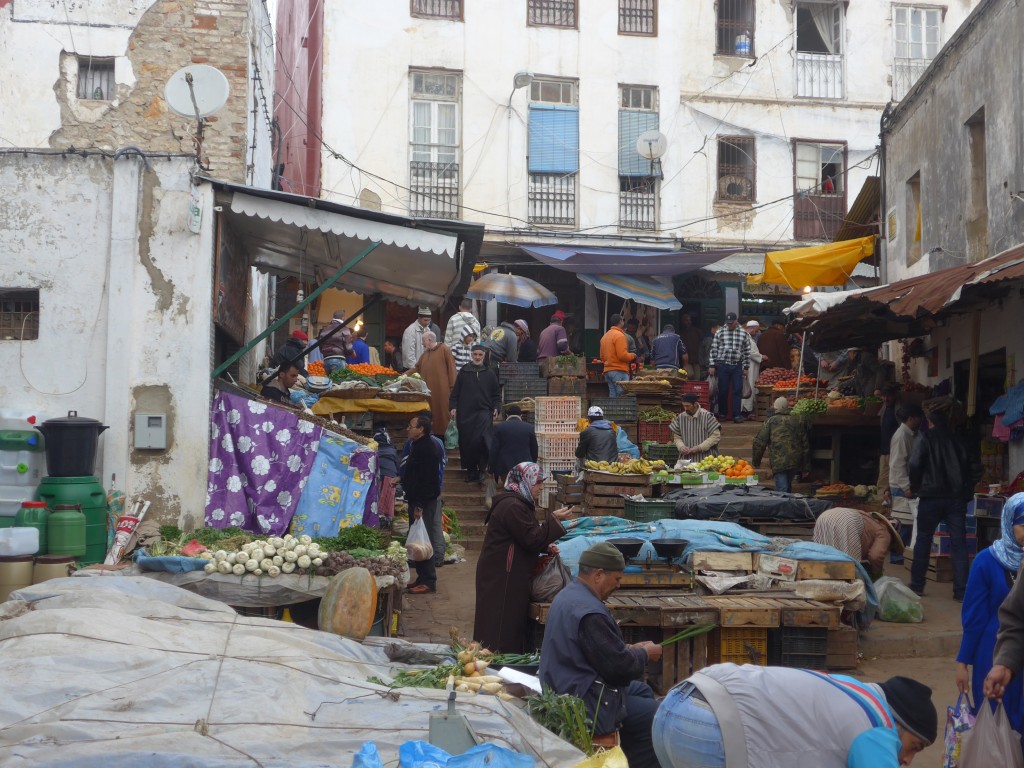 went to the archeology museum, with its collection of mosaics from Lixus.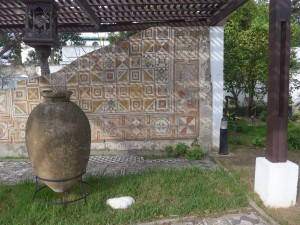 I was struck by how different these mosaics were to zellij–human versus geometric forms, carefully cut geometric shapes versus a broader range of building blocks–despite the fact that they share so many principles.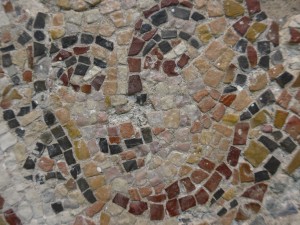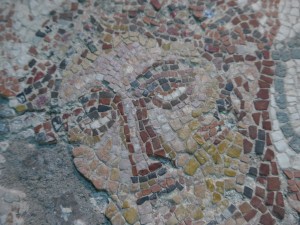 Jeremy was particularly interested in the skull with the spike in it.  Warfare was rough in those days…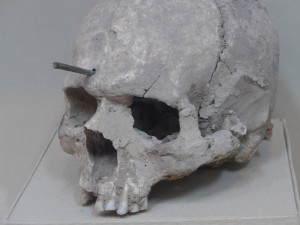 Then, when you went to your beloved's funeral, there were special containers to catch and preserve your tears.  Lacrimatoires: talk about emotional exhibitionism.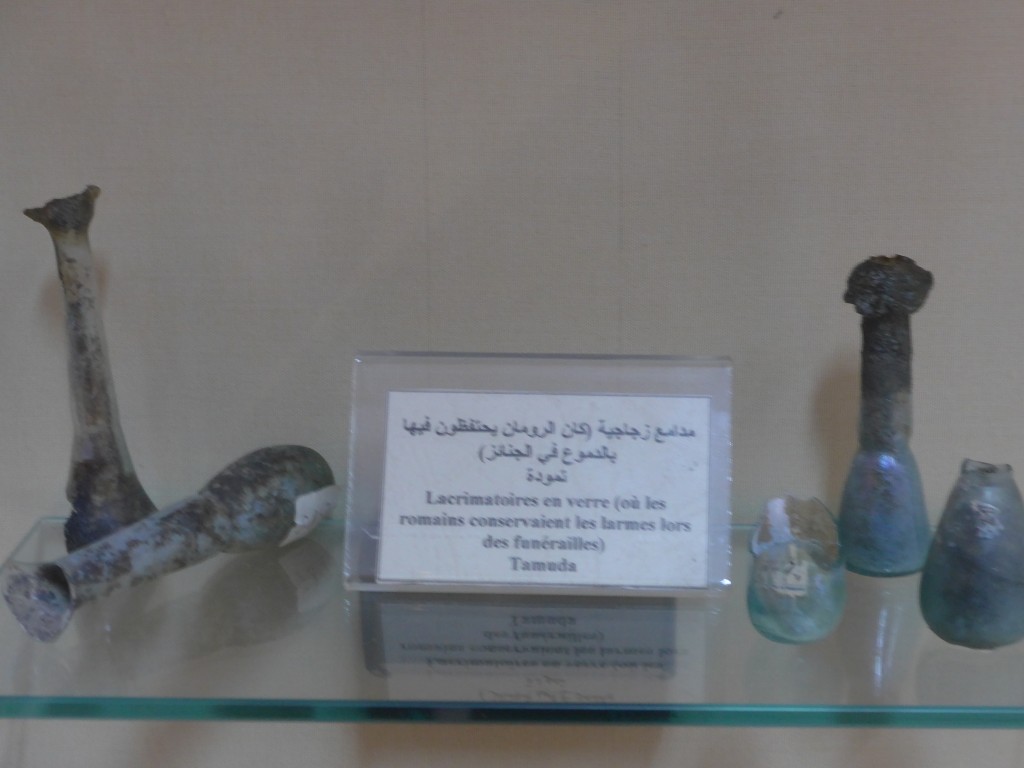 For his part, James was fascinated by this model of M'Soura, a stone age burial site.  We decided we'd have to check it out on our way down the coast.  Roman Morocco.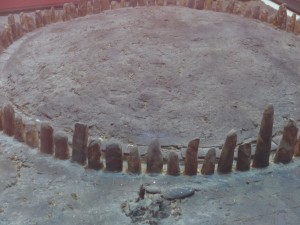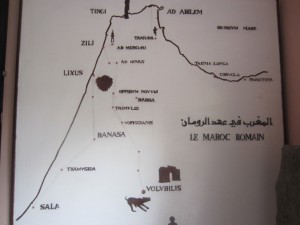 We were all amazed by the cave drawing by the front door.  It doesn't belong here.  But this was the first museum in Morocco, and so when a Spanish general went driving around the south, in French Morocco, and he saw this carving, he picked it up and brought it back to Tetouan, presumably for the greater glory of Spain.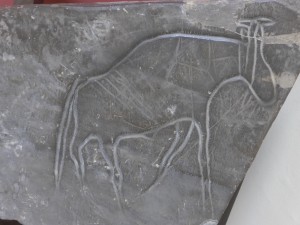 Finally, gelato all around made the drive back to Tangier all the sweeter.