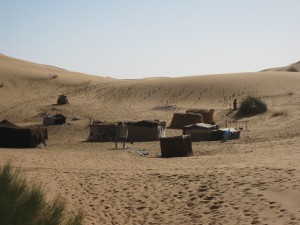 As we ride up on our tourist camels, an old woman is pulling dates off their orange stems in the shadow cast by a square Berber tent.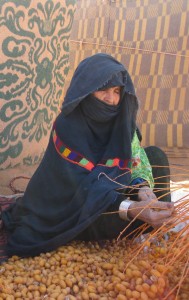 Young Lahcen, our guide, leads us near the encampment.  As the camels fold themselves down onto the sand, he pulls off the blankets that have served as saddles and hauls the food bag toward a separate tent that is clearly reserved for visitors.
Khalid, the father of the family, comes to greet us with a warm hand and a warm smile.  Two of his sons head off with a loaded mule, one riding, one leading.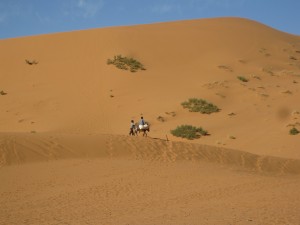 There's another smaller boy sitting beside the old woman, eating dates while pretending to help pull them off the stalks.  We approach the date pile, asking tentatively whether we can help.  The old woman gestures: feel free.  Zoe, Jeremy, and I sit down and start to work, while James wanders around the camp.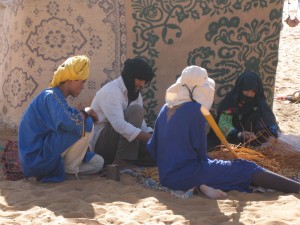 Khalid returns and we go through the introductions: our names, their names.  The boy is Hassan.  He insists he's ten.  He's smaller than Jeremy and he's missing a lower front tooth, so I would guess five or six.  (His brother Mohamed later confirms that Hassan is 5; he himself is 6.)  The old woman is "Hajja" says Khalid, which is a term of respect.  Zoe and I are fascinated by the deep red of her fingernails and the base of her feet.  She grabs a stalk of the date and runs her hand down it so the dates fly off in all directions: much more efficient than pulling off a date at a time.  "Oh, and there's Omar," they say, gesturing at a small green scarf bundled on a rug in the shade of the next tent over.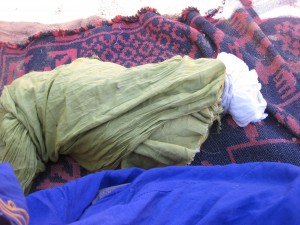 Oh! we say, surprised.  We would never have known that was a baby.
James comes to tell us that there's a woman baking bread and he feels intrusive as a single foreign man, so I go with him up the side of the dune to see a small oven built out of mud or cement in the windbreak of a small shrub and a kind of lean-to made of a rug and a stick.  Fatima, the mother of the family, pulls out a third loaf, wraps it in cloth with the other loaves of bread, feeds the fire, banks it, and heads down the slope into one of the family tents.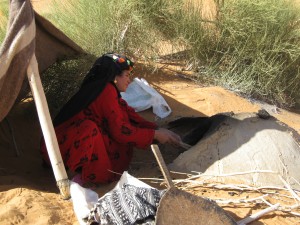 We wander back to the date work and a few minutes later, Fatima appears with a couple of bowls and a handful of vegetables.  She picks up the green bundle, wraps herself and the baby in the folds of her black scarf and proceeds to feed him.  A few minutes later, she reemerges, with the baby draped across her lap, at which point she begins scraping and chopping vegetables.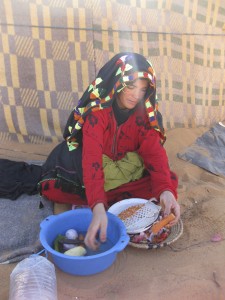 Moroccan women rarely bother with cutting boards and the good sense of this is forcibly born in on me in this context: with a cutting board, you'd inevitably get loads of sand in your food.  I go to sit near her and practice my little Darija.  A month old? I ask.  Aren't you tired?  I was tired the first months after my kids were born.  Fatima and Hajja laugh at this, quite emphatically.
Fatima pulls back the green scarf—green for Islam?—to give me a better look at Omar's face.  He has eyebrows drawn on in a thick black paste.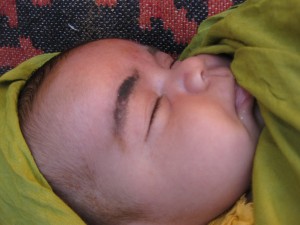 "Zween," I say admiringly.  Handsome.  She hands him to me and I dandle him.  He's tied up in a small package: white wrapping inside the green cloth.  His feet are tied together with a soft rope.  His hands are inside the white swaddling: also tied?.  Around his neck there's a string with beads and a small square of folded paper taped up or wrapped in plastic.  It makes me think of an amulet, but when I ask, Fatima says it's just decoration.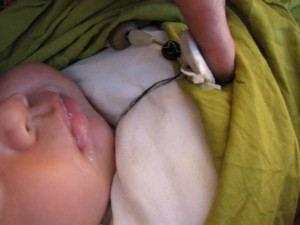 The swaddling seems to work: he's a remarkably quiet and placid baby.  With his head uncovered, he peers dimly at me.  When I remember to take off my sunglasses, he smiles.
Khalid and his mother pick through the huge pile of dates, though I have a hard time telling whether they're trying to sort out the half-eaten and rotten ones, or pick out the ripe ones.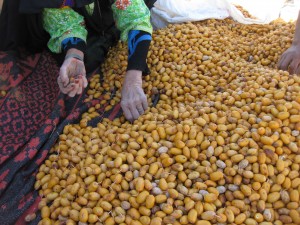 I try handing Khalid bunches of each sort and he sets them aside together. Oh, for better language skills!  I ask where the dates come from and Khalid gestures over a dune: they're from a nearby palm, shared with another Berber family. Khalid brings two large empty bags and we fill them with the dates we've plucked.  Half will be sold; half eaten by the family.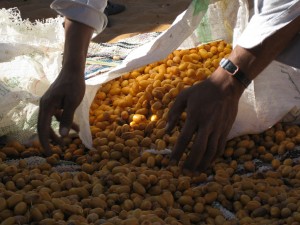 I think back to Aki or Karim telling us that his dates are premium dates—the best to be found.  They certainly seem more appealing than these—but I'm probably biased by the flies everywhere.  Why does no one talk about flies in the desert?  I point to what looks like mold covering the surface of many of the dates.  No problem, Lahcen says, and Khalid clarifies: a little cold will take care of that.  So first the dates are ripened with heat, then they're cooled and cleaned to remove the mold.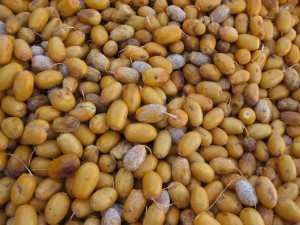 Slowly, we see a little of the rhythm of the day.  The two older boys, Hamid and Mohamed, have taken a load of dates off to a little hut to ripen.  Hajja and Khalid are preparing another load of dates.  Khadija, the oldest of the children and the only girl, has been doing laundry: she lays the clothes out on the sand to dry.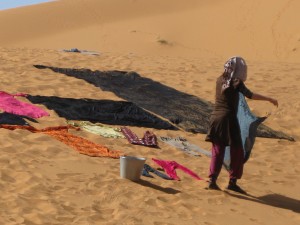 Fatima has been baking bread and working on lunch and possibly dinner for her family.  Along with piles of finely grated carrot, onion, potato, there's also a large joint—by which I mean a two gray bones attached by a tendon or ligament—which joins some more coarsely chopped vegetables in the ubiquitous and efficient pressure-cooker. There's a cooking hut with a small solar panel on the sand outside.  Inside, there are multiple gas-fired burners.  I imagine that donkey earns his keep carrying gas canisters back and forth to Merzouga.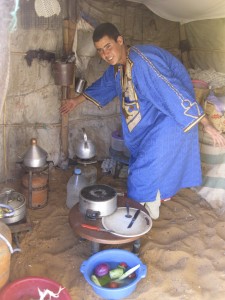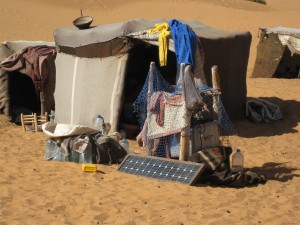 Lahcen in the cooking hut, working on a veggie lunch for us.
Khadija comes to check on the baby and corrects me when I remark with wonder at his being only a month old.  Not yet! she insists.  Only twenty-six days.  As I've been holding him, he's definitely done a poop, but no one seems very interested in changing him.  Still, there seems to be a pile of disposable diapers bagged and waiting for disposal near the dead tree.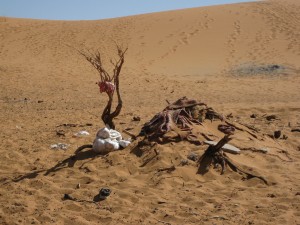 We eat lunch in the guest tent.  Khalid has propped up the side wall, opposite the door, with a stick, to allow for some breeze, but it's still oppressively hot.  There's a nice cold salad assortment and "Berber pizza" or "sand pizza"—a traditional dish more conventionally known as medfouna (a word that means buried).  A tomato-onion mixture is "buried" in ours.  Hassan sits with us and plays at feeding Jeremy sections of hard-boiled egg; Jeremy reciprocates with medfouna, cucumber, and other sections of egg.  After lunch, we head back to the shady wall of the main tent, where the heat is a touch less oppressive.
James does card tricks to delight Khalid, Lahcen, and the boys.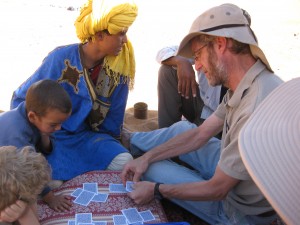 The women have retreated with Omar to one of the straw-walled huts: cooler in this heat.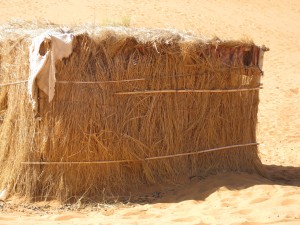 Hassan and Mohammed play Connect 4 with Jeremy, though it takes a while to get the concept of the game across.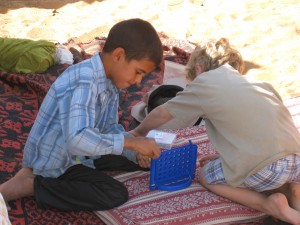 Likewise with logic puzzles.
Khadija comes and draws patterns in henna on my hands and on Zoe's.  In the morning, she had asked me if I'd like some henna, but she only starts on Zoe after I request it, confirming our assumption that no one in Morocco can quite tell whether Zoe is male or female.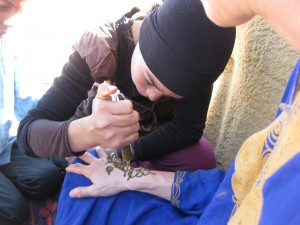 Jeremy shows Mohamed how to fold a secret letter; the two communicate very well with no common language beside gesture.  Both Mohamed and Hassan use the crayons to draw on paper, but they look oddly at Jeremy's (admittedly idiosyncratic) drawing of a camel and the accompanying narrative he spells out alongside.
The donkey comes back, driven by Hamid perhaps, and has had a feed before wandering off.  The camels, hobbled lightly, have disappeared over the dunes.  The boys head off to retrieve them.  Brought back to the blanket depot, the camels collapse onto the sand, rolling occasionally with high comic effect.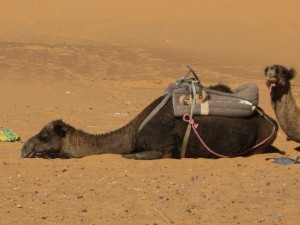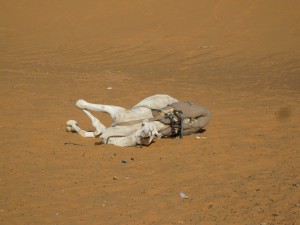 A group of four sheep come scampering in for a meal, chased by one of the boys, before heading back to the slim shade of their scrubby bush.

By about 3:30, it's time to head back to base camp.  There's a lovely breeze.  Mohamed and Hassan claim a couple of half-empty water bottles as loot; given the rest of the family's water supply, I'd snag fresh water, too.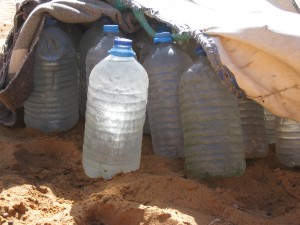 The boys are playing on their swing set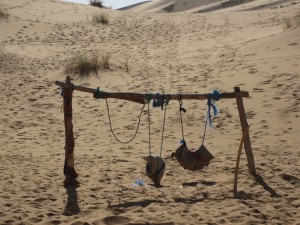 and waving to us as we pass the four sheep huddled under a shrub.
Three minutes later, they are all hidden behind a dune; we might never know they were there.